Psychotherapeutic counselling
Our professional psychologists will help you if you feel weighed down by personal or interpersonal problems. In one or several talks, you can get suggestions for changes, on how to help yourself and information about therapy options or further addresses you can contact. The discussions are absolutely confidential: our psychologists are subject to secrecy. Moreover, the consultations are free of charge and you usually receive an appointment within a few weeks.
The psychotherapeutic counselling service is there for you if you have:
Problems with your studies
Problems with your job
Problems with time management
Problems with motivation
Problems with writing
Exam nerves or other fears
Restlessness, exhaustion or sleep disorders
Depressive moods or depression
A lack of self-esteem
Find it hard to make friends or socialise
Problems with your partner or family
Other psychological problems
Staff at the University of Stuttgart and the Hochschule für öffentliche Verwaltung und Finanzen Ludwigsburg as well as employees of the MPI for Intelligent Systems and the MPI for Solid State Research can also use our counselling services.
We moved!
As of Thursday, 31 March, our psychotherapeutic counselling service can be found in our administration building at Rosenbergstraße 18.
From the former location, Rosenbergstraße 68, you just have to follow Rosenbergstraße until you reach number 18. You can't miss our colourful administration building!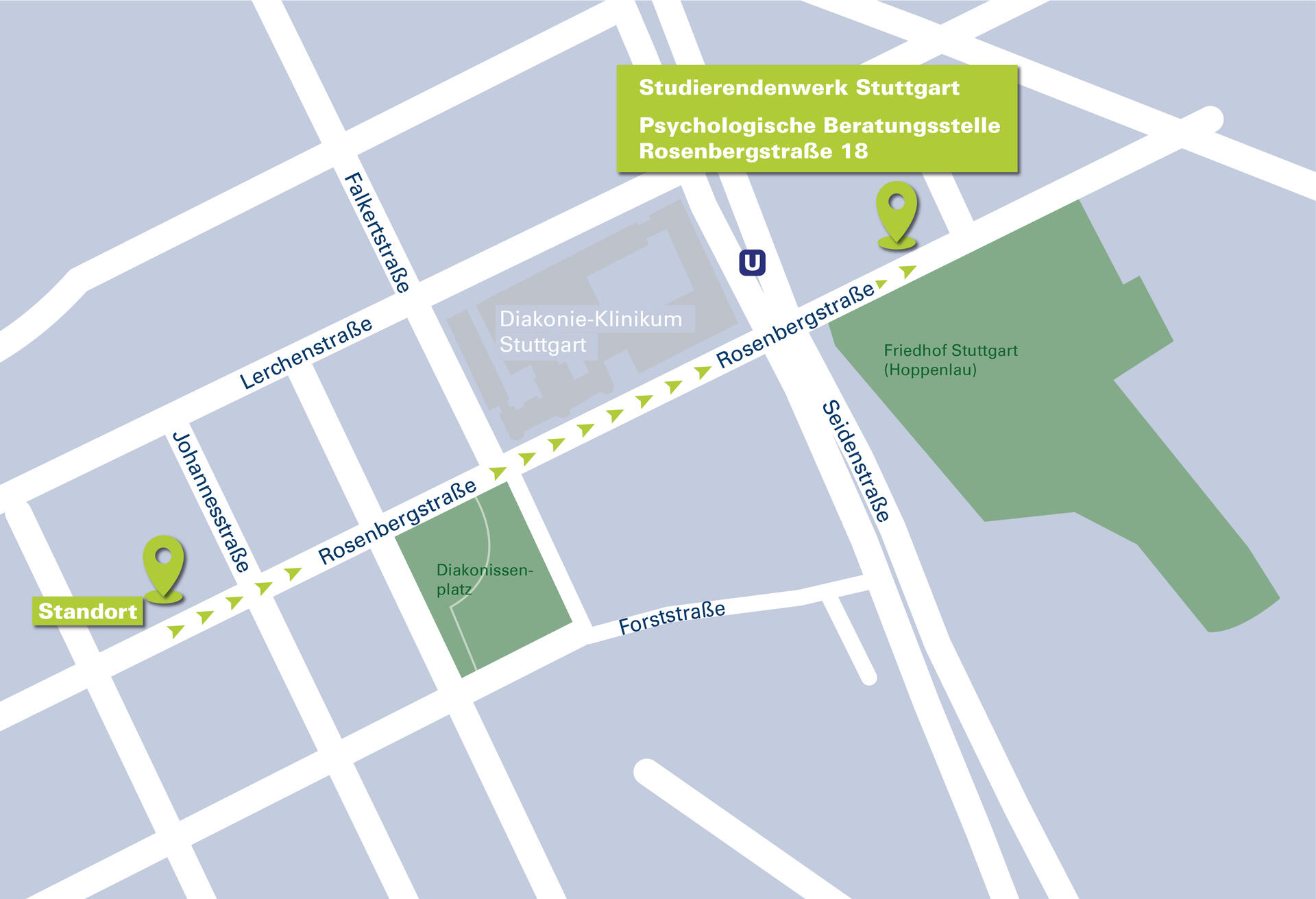 You would like to be advised?
Please first make an appointment for a consultation via our Social Services Office.
Then you can reach the Social Services Office:
from Monday to Friday from 9:30 am to 12:00 pm at +49 711 4470-1260.
The psychotherapeutic counselling centre offers video counselling. Our certified psychologist uses RED medical's video tool, which conforms to data protection regulations and is recommended by the Association of Statutory Health Insurance Physicians.
Please understand that the consultation are not native English speakers.

Important: After you have made an appointment by phone, please send us the following documents:
the signed consent form
the registration form for students, university or MPI staff
of students additionally the completed problem list
For us, a video consultation that conforms to data protection regulations and is adapted to you is essential. Therefore, we need the documents from you after the appointment and before the initial consultation.
Please send us the completed and signed forms
by mail/post to Studierendenwerk Stuttgart Psychologische Beratungsstelle, Mrs Barcsay or Mrs Haferkamp personally, Rosenbergstraße 18 70174 Stuttgart
online via upload function (Starts on 16 May! Till then please send us the docoments by post or hand them in personally to us)
Please make sure that you send us the declaration of consent in time!
Procedure of the video consultation
Once all forms (declaration of consent, registration form and, in the case of students, the problem list) have been completed and signed, the video consultation can be carried out by our certified psychologists.
For the video consultations, you call up the website of the video tool RED Medical in your browser at the agreed time. It is best to use Safari, Google Chrome or Mozilla Firefox. Now enter your name for the video consultation. This is only visible to the consultant. Please enter the access code that you received when you registered by phone.
Which technical requirements you need for the Videotool as well as important information on data protection can be found in the FAQ of the Videotool RED Medical.
EMERGENCY CONSULTATION BY PHONE
Our Psychotherapeutic Counselling Centre offers weekly open telephone consultation hours (emergency consultation) from 16 May 2022. Every Monday from 1:00 p.m. to 3:00 p.m., a psychologist can always be reached directly by phone at: + 49 711 4470-2402.
Who can take advantage of the advice?
Students who are enrolled at one of the universities in Stuttgart, Ludwigsburg, Esslingen, Göppingen and Horb, which we support, can take advantage of the psychotherapeutic counselling free of charge. In addition, employees of the universities can also use our counselling services, provided this has been contractually agreed.
All counselling services are free of charge for students and staff of our cooperation institutions.
How does the consultation proceed?
The consultation takes place in personal one-on-one meetings in a confidential environment. At the first meeting you will describe your concerns. In the further course of the consultation, the aim is to find the most suitable solution for you. This will show whether one meeting is sufficient or whether several meetings are needed. If your problem cannot be adequately treated during the consultation and therapy is required, we will discuss what options are available and, if necessary, name further points of contact. We cannot offer long-term therapy within our framework.
Where does the consultation take place?
You can either get counselling on site in our psychotherapeutic counselling centre or from anywhere via video consultation. Our face-to-face counselling sessions take place in our counselling centre in Stuttgart-Mitte, on the ground floor of Rosenbergstraße 18. We conduct video consultations via the consultation tool "redmedical" in accordance with data protection regulations. The application is browser-based and you do not need to install anything.
How can I make an appointment for counselling?
Please make an appointment by calling our Social Services Office. You can reach our office Monday to Friday from 9:30 a.m. to 12:00 p.m. at +49 711 4470-1260.
Can I get advice over the phone?
You can get counselling by phone if you have already had a personal counselling interview with us at the counselling centre or by video.
How long does a consultation take?
This depends on the individual case. Consultations usually last between 45 and 50 minutes.
What happens with my data?
The discussions are strictly confidential – we are subject to the legal obligation of secrecy. Your data is safe with us and will not be passed on to the universities or other third parties.
I need help immediately - who can I turn to?
nfortunately, we cannot offer acute crisis appointments at our counselling centre. However, every Monday from 13:00 to 15:00 we offer an open telephone consultation on: + 49 711 4470-2402.
If you need someone to talk to right away, please call the crisis line at + 49 800 1110111 (or chat via www.telefonseelsorge.de).
In urgent cases, please go directly to the specialist doctors (psychiatrists) in private practice for crisis intervention. The medical emergency service (Tel 116 117) can also find the right contact person for you around the clock, even on holidays or weekends.
Translated with www.DeepL.com/Translator (free version)
Can I do psychotherapy at the counselling centre?
Unfortunately, we cannot offer long-term therapy at our counselling centre. However, we can advise you on whether psychotherapy would be advisable, clarify concerns or open questions about the topic of therapy and provide information on how you can get a therapy place.
You can find initial information on this on the homepage of the Psychotherapists' Chamber: www.wege-zur-psychotherapie.org
Communication by mail is possible, but only through this secure De-Mailaddress: de-mail.pbs@sw-stuttgart.de. If you want to contact us via De-Mail, you need your own De-Mail account (Attention, no normal mail). Please pay attention to this, only this way the team can answer your mail encrypted.
You are also welcome to use our telephone consultation hours to make an appointment. You can reach the Social Services Office from Monday to Friday from 9:30 am to 12:00 pm at +49 711 4470-1260.
Psychotherapeutische Beratung
Rosenbergstraße 18, 70174 Stuttgart
Montag bis Freitag von 09:30 bis 12:30 Uhr
Clicking the button below will load the map. During this process my IP address is transmitted to Google. I agree with this. I am aware of the
privacy policy
.
Julia Elen Haferkamp
Certified Psychologist
Office address
Psychotherapeutische Beratung
Rosenbergstraße 18
70174 Stuttgart
Michelle Barcsay
Psychologist MSc
Office address
Psychotherapeutische Beratung
Rosenbergstraße 18
70174 Stuttgart